The first time my mother saw The LEAD Curriculum logo she dropped into a chair and said
''If only your dad were alive to see this"
When I asked my mum why, she told me a story that confirmed my passion for leadership is my calling. She said when I was three months old in her womb, my dad had a dream about me. He dreamt the baby was carrying a torch and hundreds of people were following her.
He interpreted the dream by saying the baby would be a girl and a leader (there is much more to this story, coming soon in my book). My dad called me light and leader until his tragic death in 2006.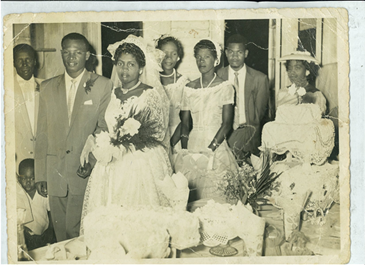 My mother and father on their wedding day in 1960
A Gifted Teacher from Birth
My mum told me I was called a teacher a few hours after my birth.
My mother said my great grandmother, who was totally blind, saw through the vision of her mind that I would be a teacher.
She called me teacher Dennise until her death at 88.
I did not finish nursery school because the teacher said I kept interrupting her by trying to teach.
I had to be home schooled, but I just could not stop teaching, so I  lined up empty cans and bricks to teach. 
My proudest moment occurred in 2017, when I returned to my homeland Guyana and trained one hundred school leaders in The LEAD Mindset strategies applicable to leading schools in a changing world. One headteacher summed up the mood 'I returned to school after this conference rejuvenated with passion to raise the bar.
My Dad's dream fulfilled!
I graduated as a Science Teacher specializing in Chemistry and Biology and went on to enhance the performance of twenty-five thousand plus young people in Barbados, Guyana, Grenada, USA and in eight schools in the UK.  Serving as a leader in the education sector, to the level of Associate Headteacher for more than twenty five years. My style of leadership has teaching and empowering others at its core. I have a systems approach to personal and work place change and firmly believe in the transformational power of a service leadership mindset.
For example when I was head hunted as the Head of Science to a struggling school in Elephant & Castle, i proposed, designed and implemented a mission to the Caribbean to recruit teachers to address the teacher shortage. Over two years twenty teachers were recruited and trained.  Over 70% of the teachers are now serving as Senior Leaders in London Schools.  One of the teachers became the first black Professor at The University of Huddersfield.
In one inner city school where I served as an Assistant Headteacher, I was instrumental in transforming the school from the least popular school in the borough to the second most popular school. The progress of the children's achievement showed an upward trajectory over five years. My emphasis on excellence, inclusion and leadership at all levels were highlighted in the school's monitoring reports as examples of outstanding practices.
I have lead, managed and coached over four hundred plus school leaders and beginning teachers.  I have worked through organizations such as National College of School Leadership,   Future Leaders Trust and Institute of Education.  I have empowered leaders to have the confidence to go on to take up leadership roles in and outside of the education sector.
The LEAD Curriculum is Born
In 2015, I was seconded to an Academy Chain to be part of a team to set up a Free School for a group of the 100 most successful black businessmen in the UK.
The group of businessmen wanted to share their success with tomorrow's leaders through a leadership sixth form college. I was responsible for designing the curriculum. In July 2015, I learnt that the college would not be going ahead because of complicated issues involving the building. This is the stumbling block I used as a stepping stone to birth LEAD! I Founded, and became the Director of, Leadership In Education Services Ltd in 2015. The company trades as The LEAD Curriculum promoting The LEAD Mindset. 
I was recognized by becoming a 2017 finalist for professional services in leadership at the Black British Business Awards.
My journey continues to testify to the fact that I am a unique and rare leader, with an obligation and passion to transform the quality of lives people live through:
Being the example of the change I want to see
Having the vision to carve out a future plan for personal and organizational development.
Having the courage and persistence to take risk.
Inspiring others to realize the value in sharing their gifts and talents for the benefit of others
Inspiring others to discover the joy and significance in using their offer to add value to others
I am determined to continue to change the world and improve the quality and meaning of life through The LEAD Mindset Programme – the dream of my father!
This is our legacy for LEAD.