By investing in instilling The LEAD Mindset across your business, you will be creating a powerful culture of service that bridges the gap between professional development and the fundamental human desire to feel valued and significant.
The LEAD Mindset unique training  challenges and transforms the mindset of leadership where everyone, irrespective of rank, is invested and active in the overall success of their organisation internally and externally.
Our ToolKit
All our training is built around our six leadership concepts called REAPS®. This hybrid learning experience shifts employee mindsets toward consistent behaviours that lead to enhanced effectiveness and success.
of Participants
find training content easier to comprehend through the LEAD multimedia learning platform.
of Participants
on average would highly recommend The LEAD Mindset Training to a friend or colleague.
of Participants
in a cohort of 40+ progressed in their careers within and outside the organisation.
of Participants
rate the content as excellent.
One of the payoffs is LEAD has been tried and tested in big corporations, in schools and the feedback rates the quality of the experience as 95% good or excellent because it is a virtuous circle what LEAD creates:
Better leaders as role models
Better followers
Better outcomes for the business
Why? Because people understand how to give more, do more and use all the great skills to be better versions of themselves, delighting customers but for genuine business and social good.
The LEAD Curriculum is made up of six modules. People who complete all six modules will emerge as better leaders. 
Build workforce productivity with a library of award-winning material to unleash employees' leadership potential.
Create a lasting legacy of diversity and inclusion among employees, through
personal stories and speaking opportunities.
Support schools and local communities from diverse socio-economic backgrounds, through engagements and mentoring opportunities that promote resilience and growth mindsets.
Most large institutions have copious amount of training around stories, problem solving, listening etc., but there is still a gap.The gap is the aspect of all of those skills in the context of service leadership. All of the skills will enable employees to shout about 'you', but ignores the power of bringing others along – followship.
What LEAD does is allows better formation of teams, to enable them to interact better in ways that are more respectful, inclusive, insightful and more considerate than they have ever been.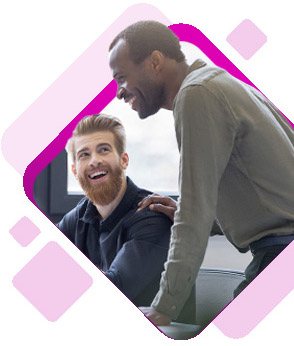 A Collaboration To Grow Leaders!
 These are the results you can expect
Public speaking to inspire skills
Confidence building
New thinking which produces happier and more motivated staff
Staff showing up as better versions of themselves and with more vigour
Fellowship and collaboration across departments, ranks, teams and divisions
Horizontal and vertical visibility of talent
Low costs, high impact
Sustainable value
Measurable success for interventions – allows you to scale on impact
Allows you to target junior staff you can recruit and grow
Access to a talent pool from diverse backgrounds
Offering unique selling points as part of your company's unique employee proposition
Broaden your pool of people with courage to make decisions
Create sustainable value
Become part of a powerful network
You can establish LEAD- Company Hubs in different locations
The Toolkit REAPS can be codified and scaled easily